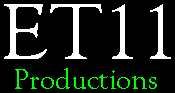 ET11 Productions currently produces two community access shows. Sorry, but they can only be seen and heard by those who live in Dubuque, Iowa and subscrible to TCI Cable.
ET11 Television
Format: See various original comedic sketches along with other interesting things.
Current Schedule: Episode One (Featuring "Shakespearean Plays Performed by Action Figures" and "Cookie Talk") will be airing on Channel 45 Monday, June 8th at 7pm, Tuesday the 9th at 8pm, and Friday the 12th at 1:30pm. A complete schedule of community access programming is available in the Friday television supplement in the Telegraph Herald newspaper.
ET11 Radio
Format: ET11 Radio plays music from various different genres and time periods. Chris and Bill converse with their weekly special guests on a variety of topics and generally make asses of themselves- it's fun!
Current Schedule: ET11 Radio is heard every wednesday at 6pm on Community Radio 101.3FM.
How to get Community Radio 101.3 F.M. on your radio (It's
a free service of TCI Cable, you might as well get some
use out of it):
1. Live in Dubuque and have TCI Cable.
2. Attach a splitter to your cable to split the signal to two cables.
3. Attach one cable to your Radio (You will probably need an adapter)
and the other to your cable box.
4. Tune your radio to 101.3 F.M.
If you have any trouble, go to your local electronics store and ask an
employee who looks competent.

---

Comments or Questions regarding ET11 Productions? Email stopstopstop@hotmail.com.

---

Return to the Ministry of Unorthodoxy Main Page